Debi at
My Happy Sewing Place
and Sarah from
Rhinestones and Telephones
are co-hosting Sewing Through the Decades. (Click on picture to go check out the challenge.)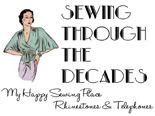 I like this because there are no deadlines or even strict rules about what you should be making. I need dresses, so I am going to sew a dress from each decade 1920 - 2010. I want to work more on drafting my own patterns, so I can just do one of these projects whenever I feel like it. (I also may be using my sloper to recreate designs rather than trying to grade up on patterns that are much smaller than I need.)
I am taking a sewing break right now (jetlagged from Korea and taking another trip next week) so I thought I could benefit from some time thinking about possible projects. This included looking at all the pictures of patterns from the 80's and 90's on Etsy.
This is what I looked like in 1988: (The band behind me is Out. They recently got back together if you live in the Seattle/Bremerton are and are interested in late 80's Kitsap punk music.)
I got to skip most of the mainstream 80's and 90's for a combination of vintage/punk rock/homemade fashions. Looking at these patterns, I was shocked, I say. Shocked! I know retro 80's are kind of in, but ugh. Not for me. However I found a great dress from merchant
sydcam123
.
As for the 90's, BORING. If you can think of a fashion trend from the 90s that doesn't suck, please let me know. However, I found this little number from seller
sewdamselsew
. (Although I am not sure how the lowered waist will look on me.)
Both of these patterns have been purchased and will be making their way to me soon. (Yay!)